Commercial Roofing Company In Lusby, Maryland
Serving Areas:- Lusby, Prince Frederick, Huntingtown, Dunkirk, Owings, St. Leonard, and Solomons MD
For years Southern Maryland Roofing has been installing, maintaining, and repairing commercial roofs in the Lusby Maryland area. We offer premium quality materials for all your roofing needs at affordable pricing. Our roofing teams are certified, fast, friendly, and provide quality service.
When you are looking for a professional, reliable commercial roofing company near the Southern Maryland area, there is no better company to work for you than Southern Maryland Roofing. We serve all counties in Southern Maryland including Calvert County, Charles County, St. Mary's County, Prince George's County, and Anne Arundel County.
We are the go-to commercial roofing contractors in Southern Maryland because of our years of experience, our dedication to high-quality commercial roof repair, and our insistence on putting the needs of our customers first.
Check out all the roofing materials below that we offer for commercial roof replacements, and check out the benefits we provide to our customers. Our work is about honest communication and respect for both our clients and their property. Begin your commercial roofing journey today with the experts at Southern Maryland Roofing in Lusby & Calvert County, MD.
Benefits We Offer at Southern Maryland Commercial Roofing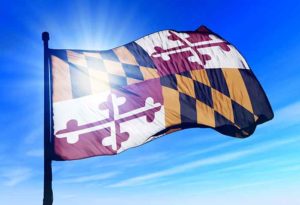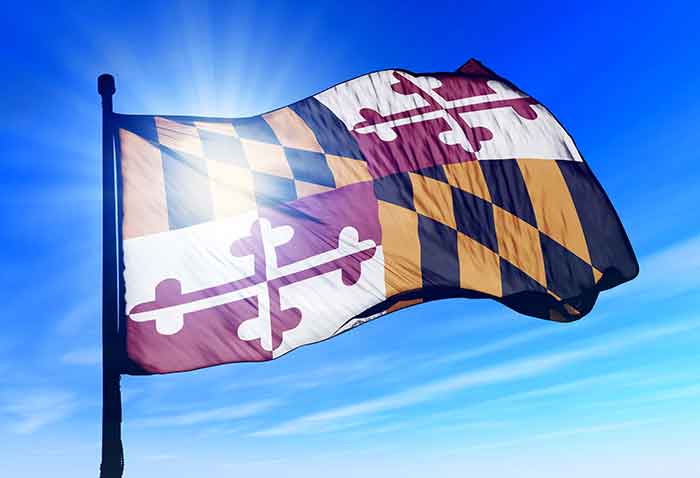 Free Estimates, so there are no surprises during commercial roofing repairs
Financing Options, so you can ensure you have the top materials for your commercial roofing replacement
Maintenance Programs, so you can avoid total commercial roofing replacements on your business for years to come
Lifetime Warranty Options, so you have peace of mind
We are Bonded and Insured, so our quality of work is backed and guaranteed
Commercial Roofing Materials
Know What Will Save You Time And Money With Your Commercial Roof
Southern Maryland Roofing has experience with many different commercial roofing materials and installations in Lusby & Calvert County, MD. We offer a wide variety for you to choose from to get the look, feel, and price you want. Browse our commercial roofing materials below to learn more about what will work best for your commercial roofing replacement and what can save you money!
We offer commercial roofing materials that include tar and gravel; metal; are made of recycled materials; environmentally friendly; and vegetative-friendly. Whatever look, feel, or need you want from your commercial roofing replacement, we have the materials and the crew to make it happen.
There are five major types of commercial roofing materials and below we provide a breakdown of each type and explain the pros and cons of each. Understanding the benefits of each type of commercial roofing material will save you time and possibly thousands of dollars.
Built-Up Roofing Membrane
Metal Roofing
Thermoset Roof Membrane (EPDM)
Thermoplastic Roof Membrane
Green Roofs
COMMERCIAL ROOFING SERVICES NEAR IN LUSBY, MARYLAND
Built-Up Roofing Membrane
Built-Up roofing membrane, or more commonly known as BUR, is basically a tar and gravel roofing option for commercial buildings. The most common type of built-up roofing incorporates three layers; bitumen material, ply sheets, and one or more surfacing materials, and most commonly used is gravel.
The bitumen material is layered on the bottom to provide your building with protection and insulation. Bitumen is applied either hot or cold and is also the adhesive for the ply sheets to the roof.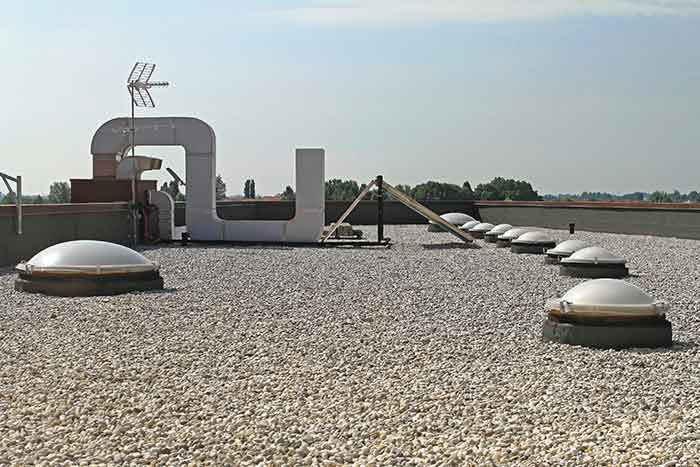 Ply sheets are added on top of the bitumen. Ply sheets are typically used to provide a layer of protection for the bitumen and to level out the roof at a slight lean for draining water. On top of the ply sheets, surfacing materials are added. Finally, surfacing materials are typically made up of small stones and gravel.
The surfacing material protects the other two layers from the weather, debris, and sunlight damage. Surfacing material is also used to make the roof easier and safer to walk on, as well as provides a nice uniformed look to the roof.
Metal Roofing
Metal Roofing can consist of several different materials. The most common types of metal roofing are: Cooper, Aluminum, Stainless Steel, and Tin.
When installing metal roofing you typically need a solid insulating layer of materials for the metal to be installed on.
Then the metal is installed and most roofing companies will finish a metal roof with a protective layer to prevent rust and corrosion.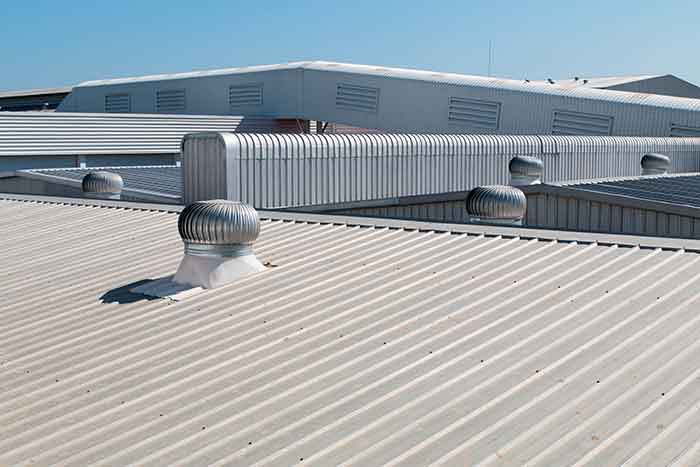 Overall, metal roofs are a great option that can look amazing on your building. The upfront investment might be more than what you are planning on, but the low maintenance and longevity of the roof make up for the costly materials.
Thermoset Roof Membrane (EPDM)
Thermoset Roof Membrane is commonly referred to as EPDM because of the material it is made out. This type of roofing is a single ply roofing that is made up of recycled rubbers, sawdust, and slate dust. It normally comes in a roll and is rolled across the roof. EPDM is the cheapest type of roofing material and in many cases, costing 1/10th the cost of other roofing options.
The installation is relatively straight forward. The roofing is rolled out and then secured to the roof with either the adhesive or fasteners. There are few seems in the roofing and they can be sealed with either the adhesive or ballasted with stone.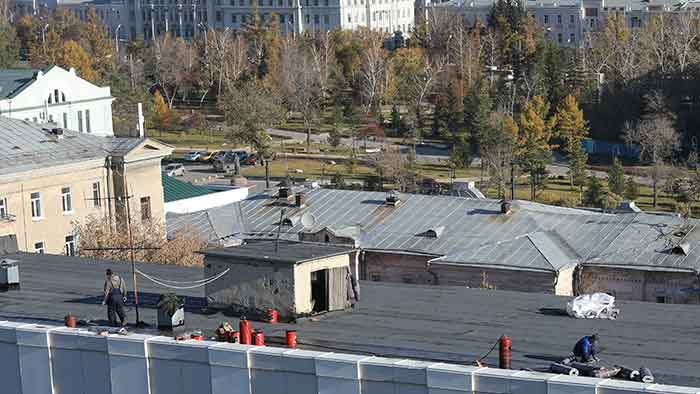 Overall, EPDM roofs is a great low-cost option for commercial roof materials. With a fast and easy installation process, EPDM roofs meet a lot of business owners needs for their businesses.
Thermoplastic Roof Membrane
Thermoplastic Roof Membrane is more commonly known as TPO and PCV. TPO is Thermoplastic Polyolefin and PCV is Poly Vinyl Chloride and the difference in the two is what the roof materials are made out of. TPO combines the benefits of EPDM and PCV but cost less than PCV which is why TPO is more popular currently.
TPO roofs are similar to EPDM roofs with two major differences, the first is the materials that TPO roofs are made out of. The process of making thermoplastic polyolefin is taking rubber, ethylene, and propylene to create an environmentally friendly material.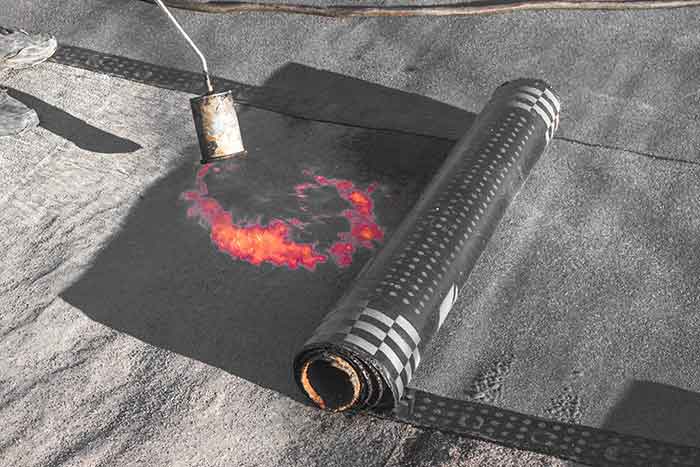 The second difference is that TPO is then installed on roofs using the same process as EPDM however the seems can be welded making the material seamless. Being able to use heat on the materials to install TPO is a huge benefit to EPDM since there are no seems and less likely to leak.
Green Roofs
Last but not least, is the green roof. A green roof is becoming more popular in urban areas as a great blend of roofing material and outdoor space. Green roofs have vegetation on top of roofing material to make a yard, garden, or outdoor space.
Most green roofs have a base sealant installed on the roof followed by roofing tiles that have root repellant materials, a drainage system, a light layer of soil/bedding, and then plants. Green roof tiles are designed to keep your current roof safe from roots and to ensure proper drainage.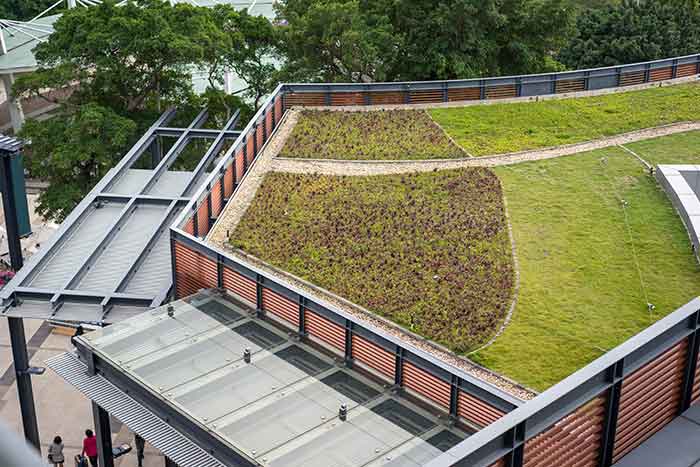 Commercial Roof Repair and Roof Replacement Service Near You in Lusby, Maryland
No matter the type of commercial roofing materials you want installed on your building, it is important to hire roofing contractors who are experienced with the commercial roofing materials of your choosing.
This is why Southern Maryland Roofing has continued to be a thriving commercial roofing company, because our experts have years of experience with commercial roofing materials and needs. It is our knowledge, honest communication, high-quality products, and commitment to excellence that sets us apart from other commercial roofing companies.
It is important to us to provide crews who specialize in commercial roof repair and understand the demands a business has of its roofing and how this impacts the function and feel of the entire business.
Contact our commercial roofing contractors with any questions you have about the type of roofing material you are considering. We will schedule a free consultation for you with one of our experts today who would be happy to help.
Don't delay on improving the roof of your business, and provide more secure heating/cooling, insulation, and energy efficiency.
With our five different roofing options providing you varying price points and visual appeals, there is no reason you cannot upgrade your roof and therefore upgrade your business.
Southern Maryland Roofing is here to make all the roofing dreams come true, so talk to us about your wants and we will provide all the solutions to make them happen.